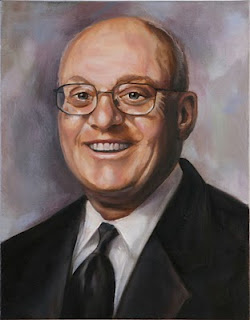 A narrative from Nancy~
There is a story behind this 10″ x 14″ oil portrait of a handsome jovial man. It's a bit hard to explain, but stick with me…
Two men, one of whom I've know since high school, contacted me to paint a portrait as a gift for their good friend who had just lost his father to illness.
The grieving friend's father had always hung a painted portrait of his own father in the office. That old portrait, smiling down on the father as he worked, brought back fond memories and served as a source of inspiration and solace.
So now, these two men and several other long-time buddies, wanted to give their grieving friend the same peaceful feeling. I worked from multiple photos and met with the men several times to ensure a good likeness. Now their grieving friend has a portrait of his father, just like his father did. And thus, the tradition continues.
I've never met the gift's receiver, but I hope the painting brings him the same inspiration and solace that his father's father's portrait did.
The relationships of all these friends and fathers gets confusing, but the point is this: I was deeply touched by these men's big hearts as they put together such a thoughtful gift for their grieving friend. As an artist, it was nice to be a part of the healing.