Outdoor Mural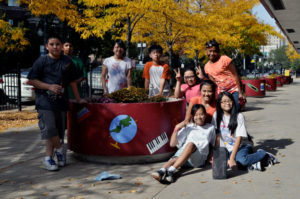 As a Latin School of Chicago service project, Nancy Pochis Bank Art Studio and Tracee Badway led Latin School volunteers in the transformation and repainting of crumbling cement planters outside of McCutcheon Elementary School (August 2010). When the school year started, McCutcheon students joined in the painting.
We returned in August, 2011 to seal and weatherproof the planters. We were thrilled to hear that McCutcheon had experienced an increase in enrollment for the 2011-2012 school year. Local families have a choice between McCutcheon and another public school, and the principal credited McCutcheon's increased enrollment to our work beautifying the school.
Indoor Mural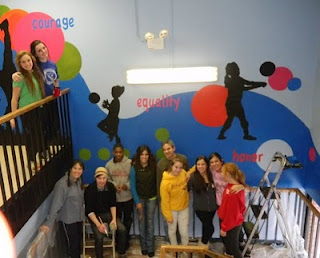 In February of 2011, Nancy Pochis Bank Art Studio and Tracee Badway volunteered to create another mural at McCutcheon elementary school, this time in a stairwell. Inspired McCutcheon students helped with the design. The mural was completed over the course of five Saturdays, thanks to many volunteers including McCutcheon middle schoolers and highschoolers from the Latin School of Chicago. Special thanks to artist and Latin School teacher David Marshallfor his dedication to the project.
Click here to see how the project developed from initial sketches to a completed mural with the help of enthusiastic students.