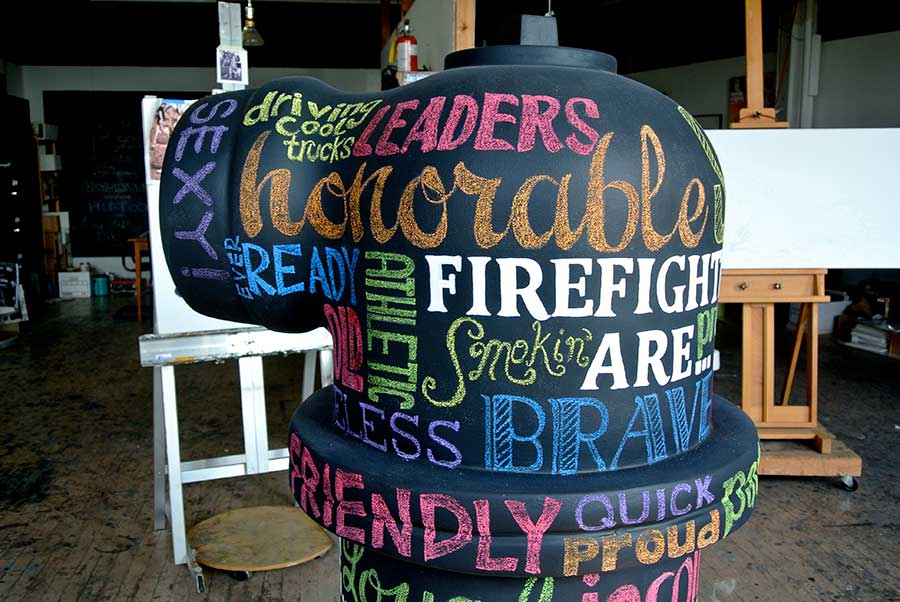 Nancy Pochis Bank Art Studio designed and painted two human-sized fire hydrants for the "Great Chicago Fire Hydrants," a public art exhibit honoring the heroism of Chicago's firefighters. Golub and Co. sponsored the project.
While Nancy and Tracee were at Wrigleyville's Engine 78 getting inspiration for their first hydrant, they asked firefighters and passersby to contribute to the second fire hydrant, "CHALK IT UP TO THE FIREFIGHTERS" by completing the phrase "Firefighters are…." Nancy took their responses, along with additional answers gathered using social media, and chalked the words on the hydrant's surface. The hydrant was displayed at Streeter Place, 355 E. Ohio. The city exhibited over 90 other hydrants in order to honor the work and heroism of Chicago's brave firefighters.
The hydrants have since been auctioned at the Hyatt Regency Chicago to benefit the 100 Club of Chicago.