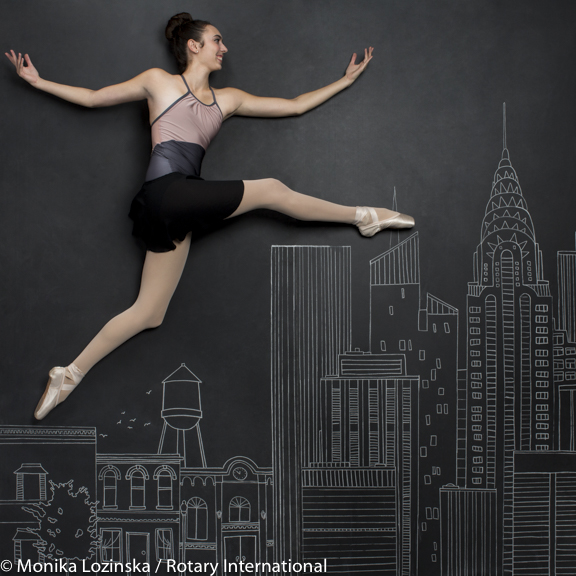 Pochis Bank Art Studio was hired by Rotary International to create interactive backdrops for a photoshoot that would be published in their magazine. The photoshoot took place in September of 2016 and the article set to be published in May 2017.
Rotary International is a service organization that brings together business and professional leaders in order to provide humanitarian services. Since Rotary International's formation in 1905 they have created service clubs in over 200 different countries and territories. Rotary International's most notable current project is their contribution in the global eradication of polio.
NPB Art studio was asked to create chalkboards for a photoshoot hosted by Rotary Student Program, run by the Rotary Club of St Joseph-Benton Harbor, Michigan. Students were connected with professionals in their dream careers. The imagery used on the boards were specific to each of the individuals; a dancer, a businessman, and an aspiring novelist. The conceptual line drawings were simplified to evoke the feel of a school chalkboard showing the world the individuals are imaging vs the professionals in the real world. The chalkboards were laid flat and photographed aerially with the individuals posed on top.
The photoshoot took place in St. Joseph, Michigan. Nancy and Studio Artist Brandin Hurley drove out to Michigan with chalk in tow and spent two days creating the boards. They remained on site during the photoshoot in case there were any need to complete touch ups or complete any alterations.
It was an honor to be participate in a photoshoot helping these talented individuals launch themselves into their dream careers. Thank you to the talented photographer Monika Lozinska and Rotary International for sharing the final images with NBP Art Studio.