Nancy Pochis Bank Art Studio is a full-service art studio based in Chicago. We create chalk art, painted murals, and hand lettered signs for clients across the country.
What We Do
Nancy Pochis Bank Art Studio helps companies stand out from their competition by creatively marketing events and products. Our custom work includes chalk art and painted murals, hand lettering, signage, and can incorporate realistic and illustrative styles.
Who We Are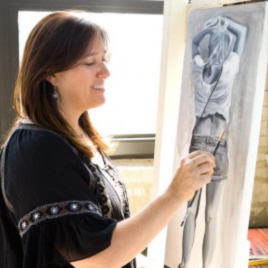 Nancy Pochis Bank, Lead Artist
A Chicago-based visual artist, Nancy works in watercolor, oils and chalk (and more). Nancy also uses her art to raise awareness for a range of social issues.
"Such a beautiful piece, and such fun for our party! Thanks for creating this. We love it and can't wait to use it in the showroom."

– Sallie Westbrook, Knoll
We love working with clients who have big ideas and are seeking a unique way to engage their audience.