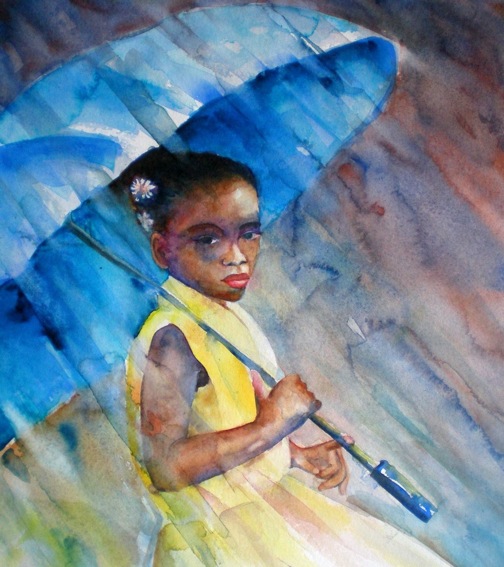 Remember this painting by Nancy Pochis Bank? "Rainy Birthday after Mary Whyte." It could be YOURS…
Attend "Unmask and Uncork!" tonight and celebrate the opening of North Branch Arts, a new non-profit art center on Devon. Nancy donated this painting to their silent auction. Enjoy wine tasting and local fare from area restaurants. Tickets are $30 and can be purchased in advance at NBA or at the door the evening of the event. food from nearby restaurants. Kids are welcome too! See http://www.northbrancharts.com/unmask-and-uncork.html for more details.
Also, two Nancy Pochis Bank Art Studio and Tracee Badway murals, recently showcased at Chicago Gateway Green's 3rd annual Green Tie Ball, are currently on display at the Latin School of Chicago in honor of tonight's student presentation of  Alice's Adventures in Wonderland. Tickets are $10 for the public and $5 for students. Visit the event's webpage to learn more.