Nancy Pochis Bank Studio has been working hard to create two human-sized hydrants for "The Great Chicago Fire Hydrant" project! Thanks to GOLUB for sponsoring both of these. The first one, "FASTEST IN THE NATION" is a collaboration with artist Tracee Badway. It honors Chicago firefighters, who have the fastest response time in the nation, and will be displayed in the 680 Lake Shore Drive building. On the top section are painted images of different timepieces to emphasize the famous speed of our Chicago Fire Department. On the bottom half are monochromatic portraits of a few firefighters whom Nancy and Tracee had the pleasure of meeting when they visited the firehouse for Engine 78 in Wrigleyville.
While Nancy and Tracee were at the firehouse, they asked firefighters and passerbys to contribute to our second fire hydrant by completing the phrase "Firefighters are…". Nancy took their responses, along with additional answers gathered using social media, and chalked the words all over our hydrant's surface. It is appropriately titled "CHALK IT UP TO FIREFIGHTERS" and will be displayed at Streeter Place, 355 E. Ohio. Over 90 other hydrants will be exhibited throughout the city to honor the work and heroism of our city's brave firefighters.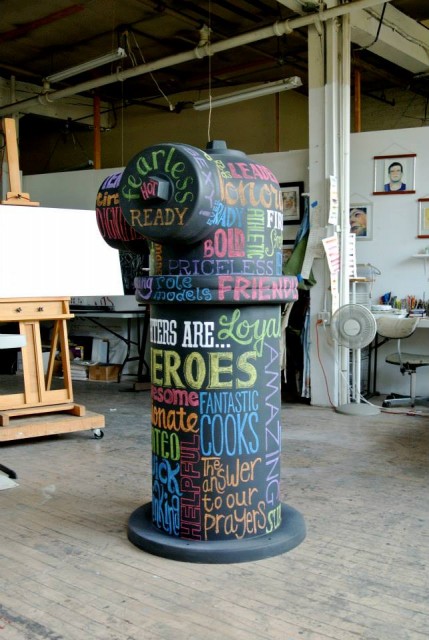 We also enlisted the videography expertise of Henry Schreiber who documented this entire process. Video coming soon!
Update:
HERE are the videos. Thanks, Henry!