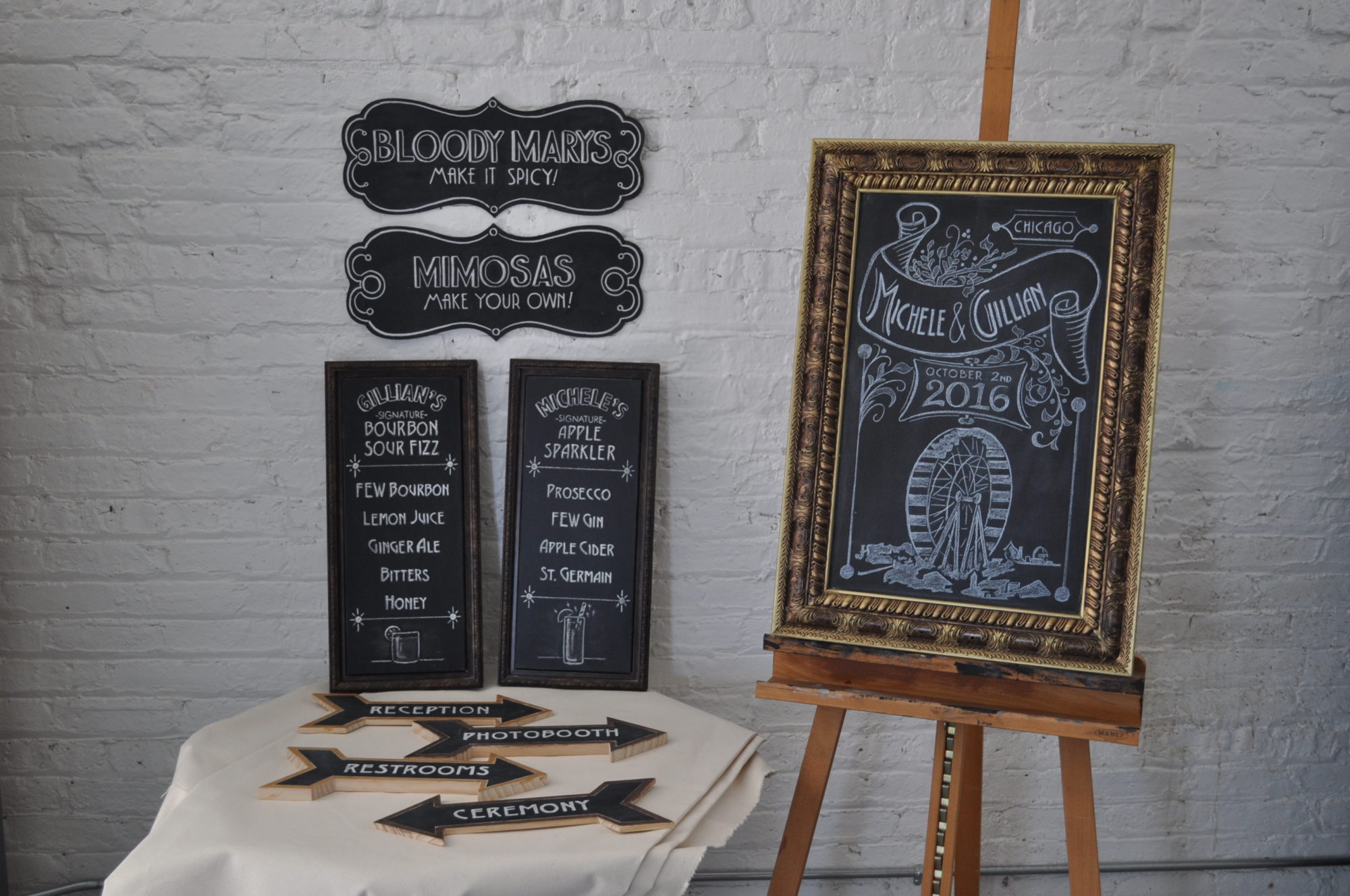 Pochis Bank Art Studio was hired to create a variety of custom chalkboards for a couple's upcoming Nuptials.
Both women are history buffs and decided on a Chicago's Worlds Fair theme for their wedding. The wedding was held at the historical Glessner House Museum in Chicago, and the couple thought that chalkboards would set a fun, historical and elegant mood for the ceremony. The studio artists chose typefaces and iconography inspired by World's Fair promotional posters. The framed pieces were crafted using up-cycled vintage framed paintings and mirrors. To do so, studio artists painted over the original content of reclaimed framed work with chalkboard paint. The frames were left as they were, to preserve the character and elegance of the detailed woodwork in the frame.
This chalkboard set includes a centerpiece welcome sign for the event, two drink boards that feature signature drinks chosen by each bride, two "Make Your Own" bar signs for Mimosas and Bloody Marys, and wooden arrows that directed guests throughout the event. The centerpiece board was created with a permanent chalk, so the brides can save their custom-made memory for years to come.
The two drink boards feature the title of each bride's signature drink, and list the contents below. Studio artists also drew simple illustrations of each drink at the bottom, adding some personal touch and friendliness to the layout. The Bloody Marys and Mimosas bar signs use a larger, more pronounced three dimensional block letter typeface that is also used in the signature drink boards. All of the pieces use the same typeface family and historic illustrative style to bring a beautiful and cohesive style to the event.
Special thanks to Pochis Bank Artist Shayne Taylor for her help in conceptualizing and creating this set of chalk boards for the couple. The studio hopes these boards are the beginning of a beautiful life together.