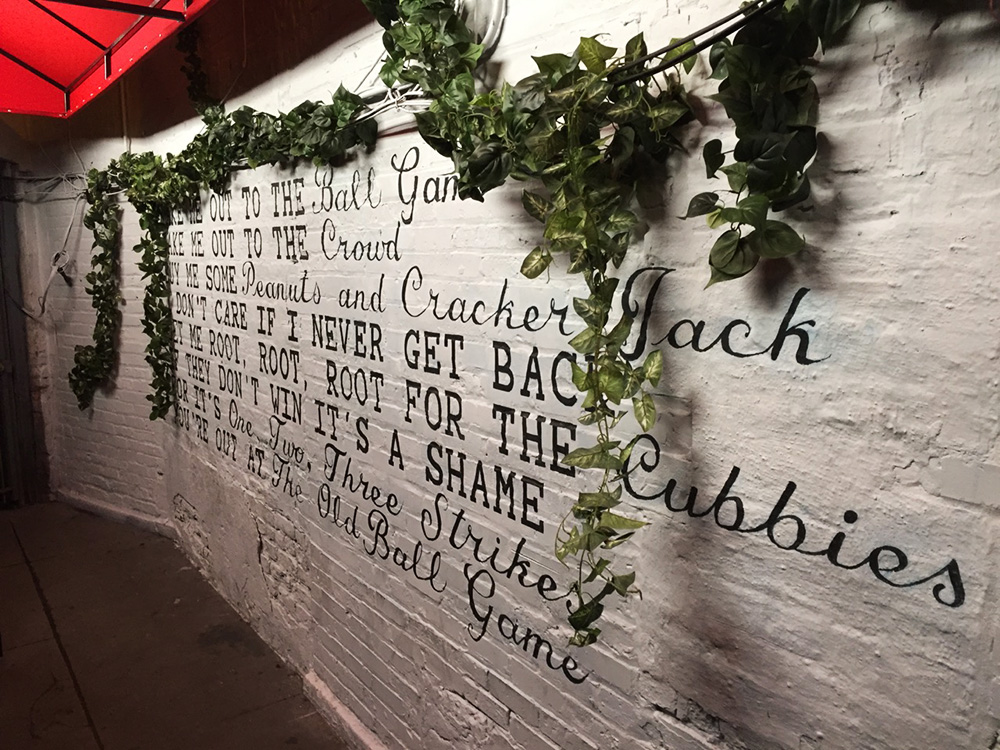 Pochis Bank Art Studio artists hand painted lettering at the hidden entrance of the smallest bar in Wrigleyville: The Press Box.  This bar is the old "Dugout," located within stumbling distance of the Addison Red Line.
The studio was hired by Spike TV's series "Bar Rescue",  a show about renovating and re-inventing bars across the country. Turnaround for the project had to be quick, as the show's premise calls for a complete turnaround of the bar in a weekend. Nancy, and Studio artists Natalie and Brittney spent a day working in the bar's subterranean corridor entrance, where they completed the mural.
The Dugout occupied prime real estate in an area filled with sports fans. However, they had not renovated the bar in a very long time, and the outdated environment was affecting their business. When "Bar Rescue" came to the site, they renamed the bar "The Press Box" and made several large changes and suggestions, including that they clean up and simplify their main entrance corridor. Pochis Bank Art Studio was asked to hand letter the words to the song "Take Me Out To The Ballgame", as it was performed by the late Harry Caray. "Take Me Out To The Ballgame" is sung at every Cubs baseball game during the seventh inning stretch. It is one of the longstanding traditions in Wrigley Field that make the park so special, and was a great choice for the mural inside this cozy, neighborhood bar.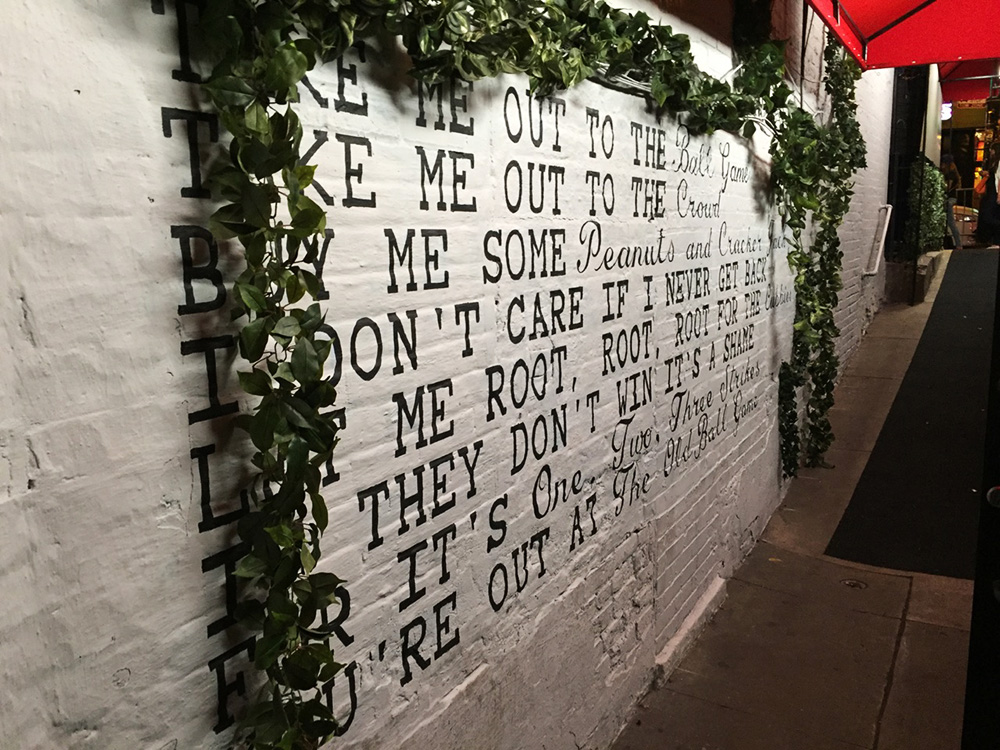 Nancy, Natalie, and Brittney worked for a full day hand-painting the words for the mural. The typefaces chosen hint to a classic 1950's newspaper and baseball jersey style lettering, as to fit in and reflect the classic baseball theme that the rest of the bar was being renovated in. Studio artists carefully taped off each line of text to maintain straight lines, and then hand painted each letter with acrylic paint and brushes. Studio artists also checked the accuracy and authenticity of the text used, and made several changes to the song that reflected how it was actually sung in Wrigley Field.
Special thanks to Natalie and Brittney for their hard work in making this same-day turnaround project possible and fun! A huge thanks to Spike TV, Bar Rescue, and The Dugout for the opportunity to make such an impactful change in this space. Good luck with the new renovations, and go Cubbies!