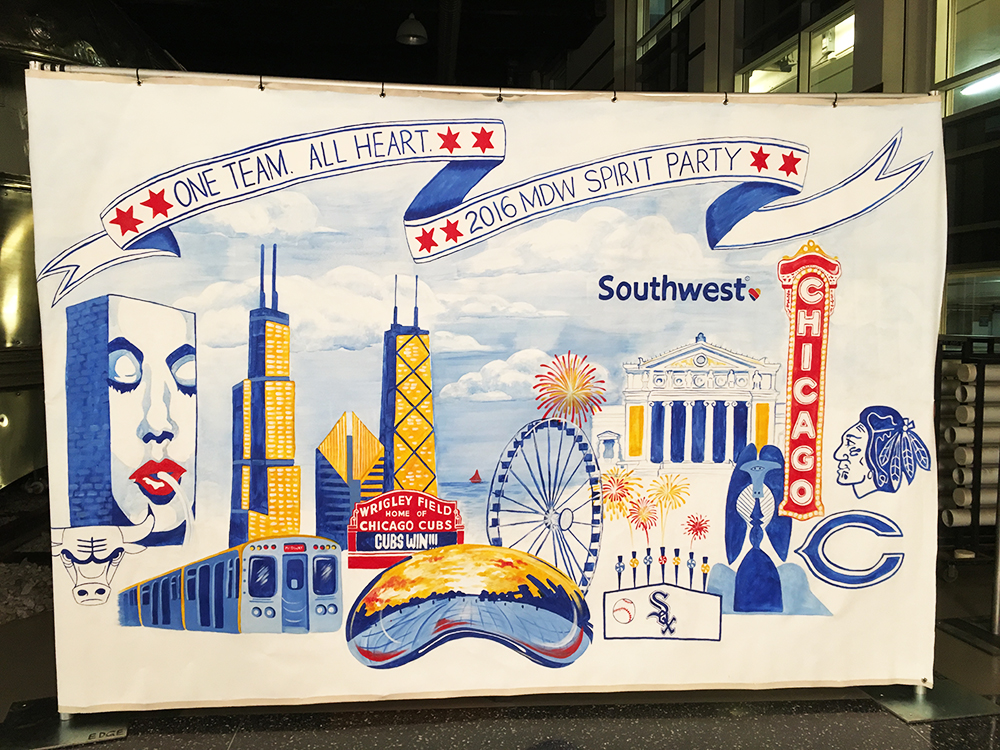 Pochis bank art studio was hired by Southwest Airlines to create an interactive, custom mural to be displayed at their 2016 Midway employee Spirit Party.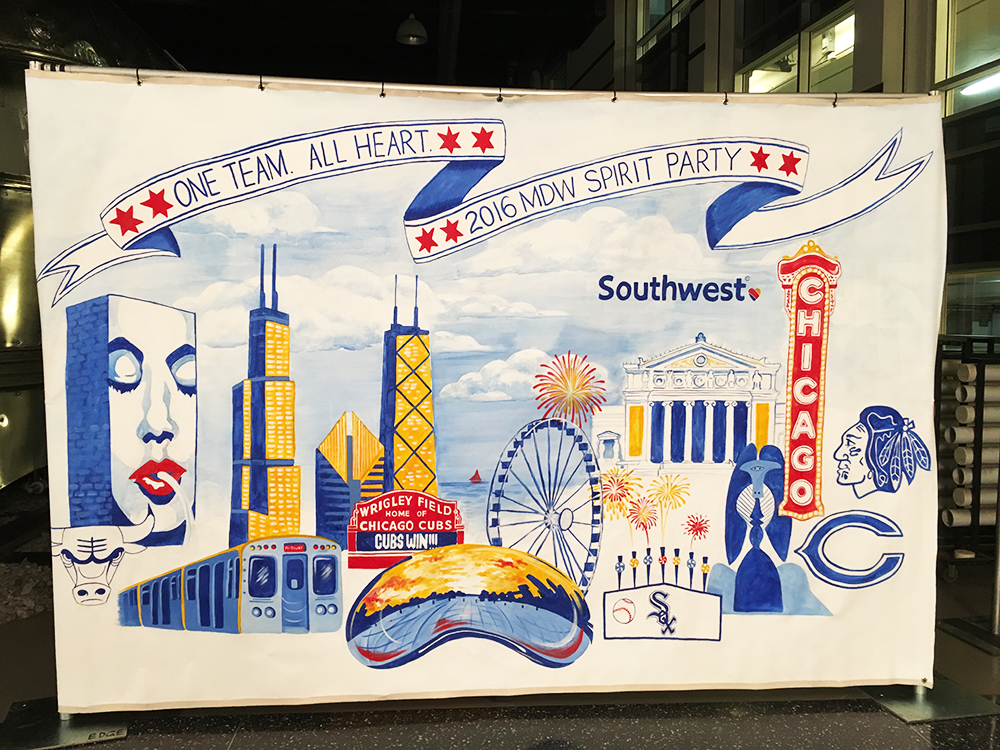 The party was held at the Museum of Science and Industry, a historic, beautiful, and iconic Chicago landmark. All of the Southwest Airlines employees from Midway Airport and their families were invited to the party. Southwest Airlines asked the Studio to create a fun, Chicago-themed mural to reflect the culture and spirit of the city. The custom mural was painted by Nancy and studio artists on an 8′ x 12′ canvas and hung near the entrance of the Museum. The mural welcomed guests as they checked-in, and everyone was invited to take a picture with the mural as a backdrop.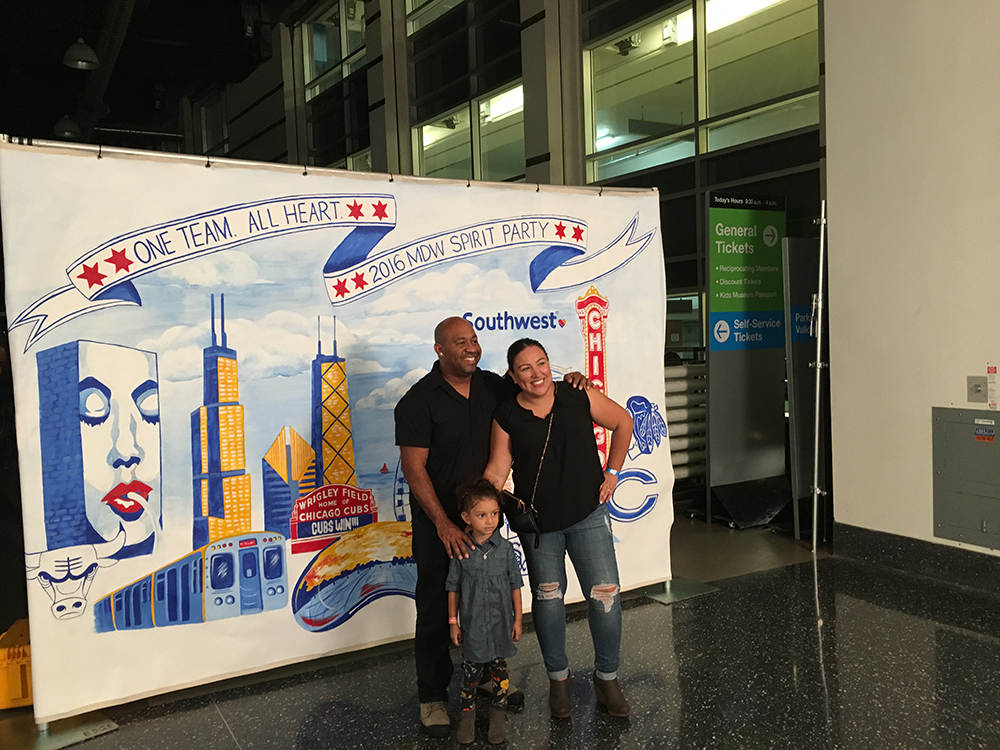 Working collaboratively with Southwest Airlines, Nancy and Studio artists created a cohesive image that included over a dozen easily-recognizable landmarks and icons in Chicago. Iconic images such as the Cubs, Bulls, and White Sox logos, were collaged with landmarks such as the Sears and Willis Towers, The Bean, an El Train headed to Midway, and the Chicago Theater sign. All of the images were tied together through composition, and by the golden light of a Chicago Sunset. The mural is also tied together with a beautifully painted sky filled with fluffy, rolling clouds and a banner that reads, "One Team All Heart, 2016 MDW Spirit Party." Nancy and Studio artists primed and hand-painted the entire canvas in the studio, and then delivered it to the Museum.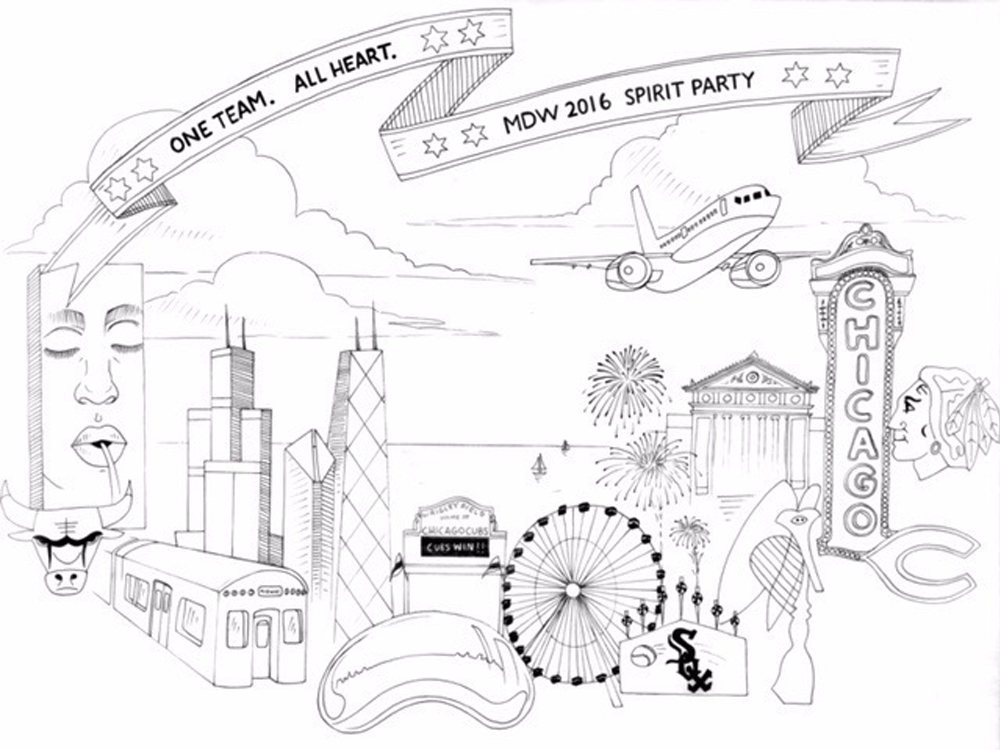 Additionally, Southwest requested that the Studio produce a coloring book page for the children of party-goer families. The coloring book page was a fun way to keep the kids occupied and entertained during the event, and was a huge hit. Featuring the same imagery as the mural, the coloring book page gave kids the opportunity to make their own colorful variations of the artwork.
Special thanks to Pochis Bank artists Reed, Shayne, Natalie, Emma, Brandin for their hard work in conceptualizing and creating the mural and coloring book page. Big thanks to Southwest Airlines and all of their staff for letting us be a part of such a fun occasion!