Nike 7 on 7 Event
Nancy Pochis Bank Art Studio created a "players' lounge" for the Nike 7-on-7 Chicago Public School football tournament at Gately Stadium. The Studio chalked up the wall with an outline of the Chicago 'L' and the 16 schools that participated in the tournament. The football players could see their school's name drawn in their unique colors and typestyles, displayed along the 'L' line and in proximity to their opponents' schools.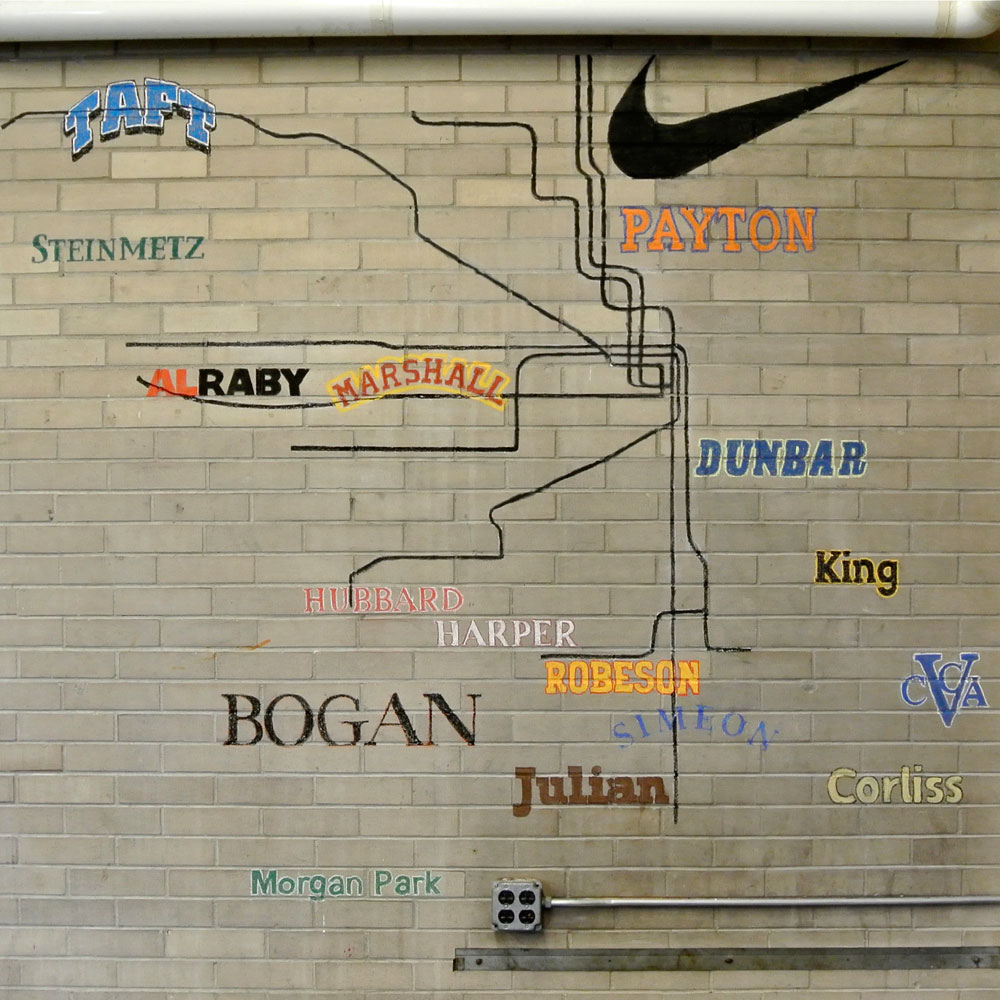 Nike Free Bionic Launch: Training Event
NPB Studio was asked to recreate the the NTC Lincoln Park logo on the exposed brick walls of Gallery 1028. This was for an exclusive NTC training event to launch their new shoe, the Nike Free Bionic. NPB Studio also created chalk invitations and event reminders to be digitized and sent to invitees. Promotional company for Nike: Mosaic
Proviso West Basketball Tournament
Nike's promotional company Mosaic hired NPB Studio to create a welcome mural for Proviso West High School's annual Holiday Basketball Tournamet that is "widely regarded as the top high school basketball event in the Midwest." The Studio came up with a design showing the Chicago skyline and action shots of Nike Jordan Brand athletes. Chalking a monochromatic cityscape onto the brick wall, Nancy Pochis Bank Art Studio chose to emphasize the brick pattern by leaving all the mortar uncovered. Larger-than-life Gator Board photos were made of the Nike athletes in action and attached in front of the scene.
Nike Training Club: Marathon Prep Party
The day before the 2013 Bank of America Chicago Marathon, NTC Lincoln Park hosted a Marathon Prep Party for all the women who had been following the Club's training schedule in preparation for race day. Nancy Pochis Bank Art Studio was hired to create a festive atmosphere for the event. Using acrylic paint on glass surfaces, Studio artists hand lettered and illustrated the designs below.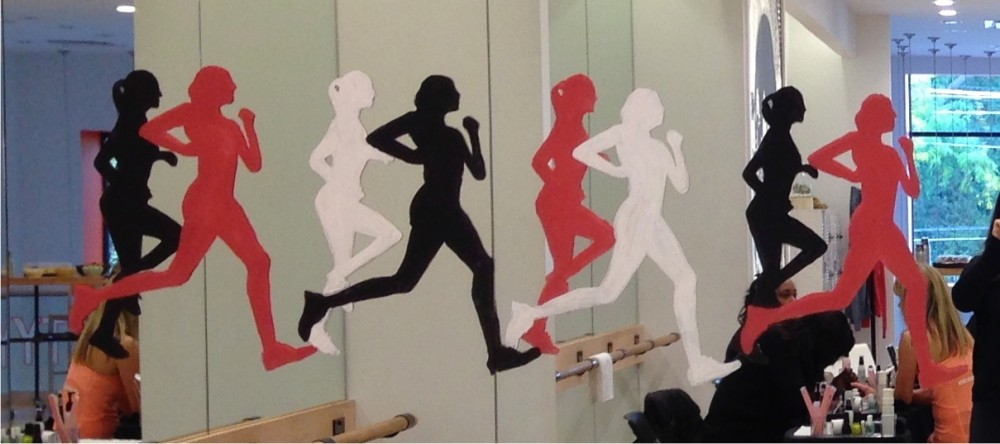 ---