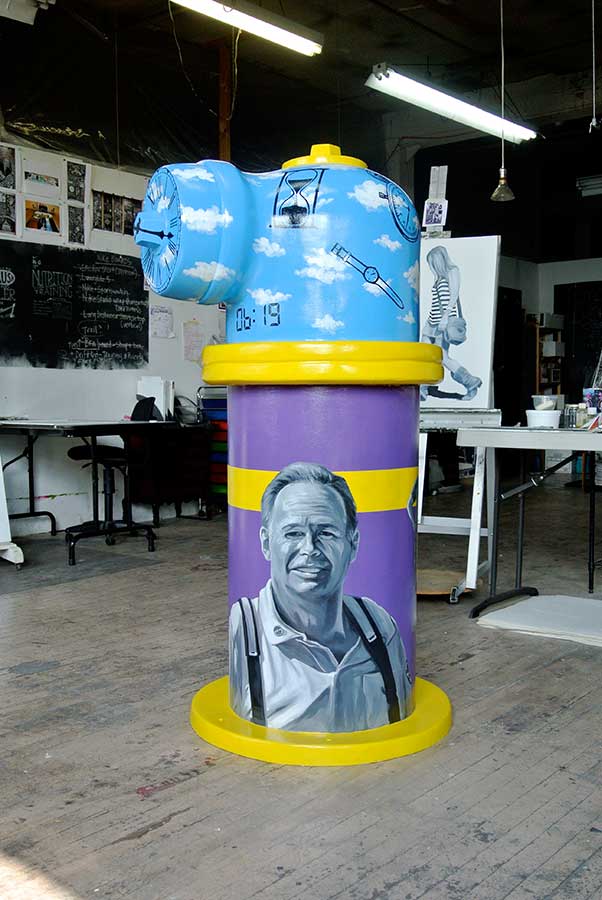 Nancy Pochis Bank Art Studio designed and painted two human-sized fire hydrants for the "Great Chicago Fire Hydrants," a public art exhibit honoring the heroism of Chicago's firefighters. Golub and Co. sponsored the project.
The first hydrant, "FASTEST IN THE NATION" is a collaboration with artist Tracee Badway. It honors Chicago firefighters, who have the fastest response time in the nation, and was displayed in the 680 Lake Shore Drive building. On the top section are painted images of different timepieces to emphasize the rapid response time of the Chicago Fire Department. On the bottom half are monochromatic portraits of the firefighters that Nancy and Tracee had the pleasure of meeting when visiting the firehouse in Wrigleyville.
The hydrants have since been auctioned at the Hyatt Regency Chicago to benefit the 100 Club of Chicago.