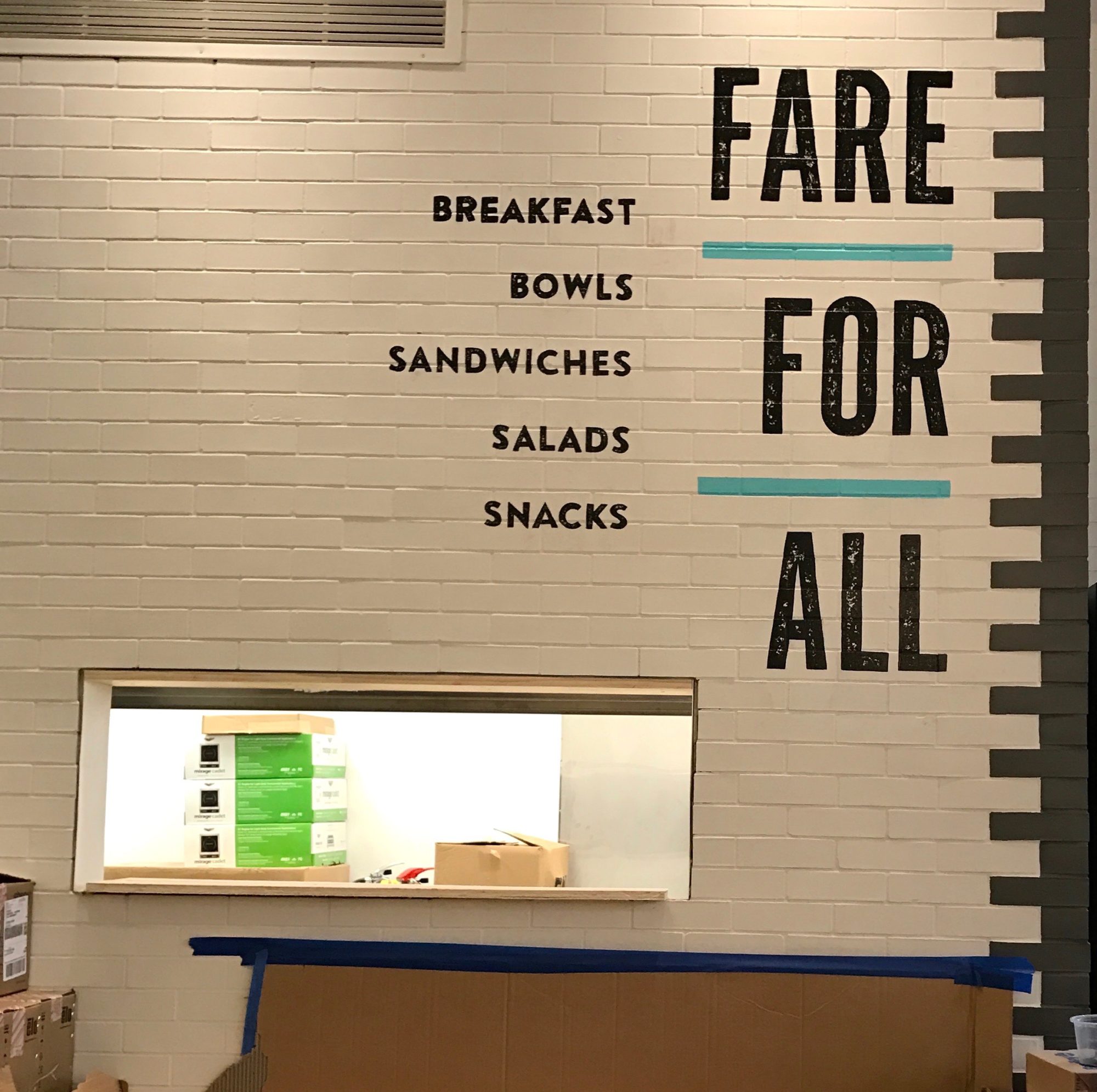 Tradecraft (formerly TrueBrew Outfitters) and Design Scout contacted Pochis Bank Art Studio with an exciting opportunity to paint logos, murals and hand lettered signage in a brand new coffee shop called
. In addition to the painted signage, NPB Art Studio was also asked to custom paint the coffee shop's centerpiece espresso machine, a La Marzocco Strada. Fairgrounds is located on Milwaukee Avenue just north of Bucktown's "six corners."
Fairgrounds aims to please a wide variety of coffee drinkers and connoisseurs alike by offering a host of bean selections from national and local roasters. The owner, Michael Schultz, wants to bring variety and accessibility of coffee to everyone in an inviting environment. They are getting quite a bit of press–check out the article in Crain's.
All of the designs were created by the talented team at Design Scout. Fairgrounds has a unique, authentically worn-in feel. Nancy and Studio artists Brandin Hurley, Brittney Williams, and Shayne Taylor, hand lettered all signage to look weathered and worn. They painted using a combination of sponge and dry brush techniques to create the worn textures. You will see NPB Art Studio's handiwork on the archway leading to the restrooms showcasing Fairgrounds' circular logo, a support pillar with "FAIRGROUNDS" painted large scaled on three sides, "Fare for All" above the food expo window, and "Taste One Taste All" by the shelves of merchandise. But the most unique design feature is the large geometric print floor rug! The rug was painted using epoxy-acrylic paint specifically for cement. You don't have to worry about spilling coffee on this white rug–it is mop friendly!
The final installment in Fairgrounds' new location is a customized La Marzocco Strada espresso machine with a weathered "faux patina" finish with the Fairgrounds "F" logo printed on each panel. The espresso machine arrived to the NPB Studio a reflective stainless steel. Studio Artist Reed Henning diligently layered high heat engine enamel paint to create a matte black finish. Once the initial layers were dried, Reed went back to texturize the machine using four different metallic enamel colors to create the "faux patina" to look as though the espresso machine weathered by nature. After the patina finish was complete, Reed meticulously created stencils of the Fairgrounds "F" Logo. The espresso machine sits beautifully on Fairgrounds' white marble countertop and is the focal point as guests walk up to place their order.
The artists love being part of the "construction team" as this new restaurant concept came to life.