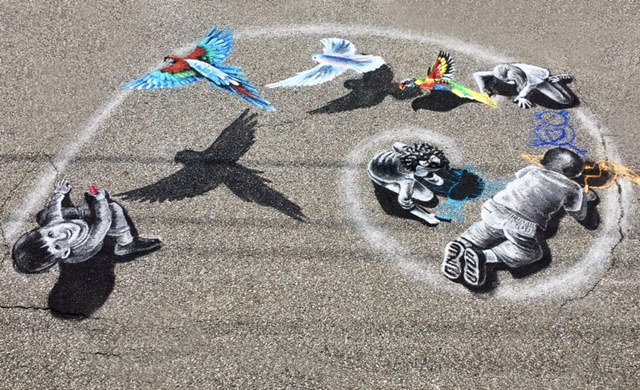 Pochis Bank Art Studio was hired to create a custom chalk art pavement mural live for the Lubeznik Center Art and Artisan Fair in Michigan City, Indiana. The Museum which has been a home for contemporary art exhibits, classes, and events since 1975 has been hosting the annual festival for the past 35 years.
With no theme or specific request from the museum,  Nancy and her artists were able to go wild and create dozens of sketches. They came across the idea of having a child drawing chalk art that would come to life. Wanting to showcase her background in black and white portraiture Nancy and the team decided to draw the children in rich monochromatic tones.
The original mural features four children doodling chalk birds on the pavement. As the mural progresses, the children's doodles transform into more colorful realistic birds that appear to be taking off, flying into the air.
Nancy and Pochis Bank Artist Brandin Hurley arrived early Sunday morning and started to paint the figures of the children and birds with a layer of tempera paint. This process assures that the bright colors and the rich tones of the black and white really pop. The artists purposely left parts of the pavement uncovered to create a realistic scene for the children to live in.
After the paint dried, Nancy and Brandin started to chalk the mural. They used over three dozen pieces of black, gray, and white chalk for the children and blue, green, purple, red, and yellow chalk for the birds. The artists payed special attention to the details  such as the folds in the t-shirts of the children and the ridges of the bird's feathers  to truly help bring the characters to life.
The final step of the mural was to draw shadows under the children and birds to create the illusion of 3D chalk art that is visible from all directions.
Special thank you to Erika Hanner and the rest of the team at the Lubeznik Center for the Arts! We hope to be apart of this tradition for years to come!