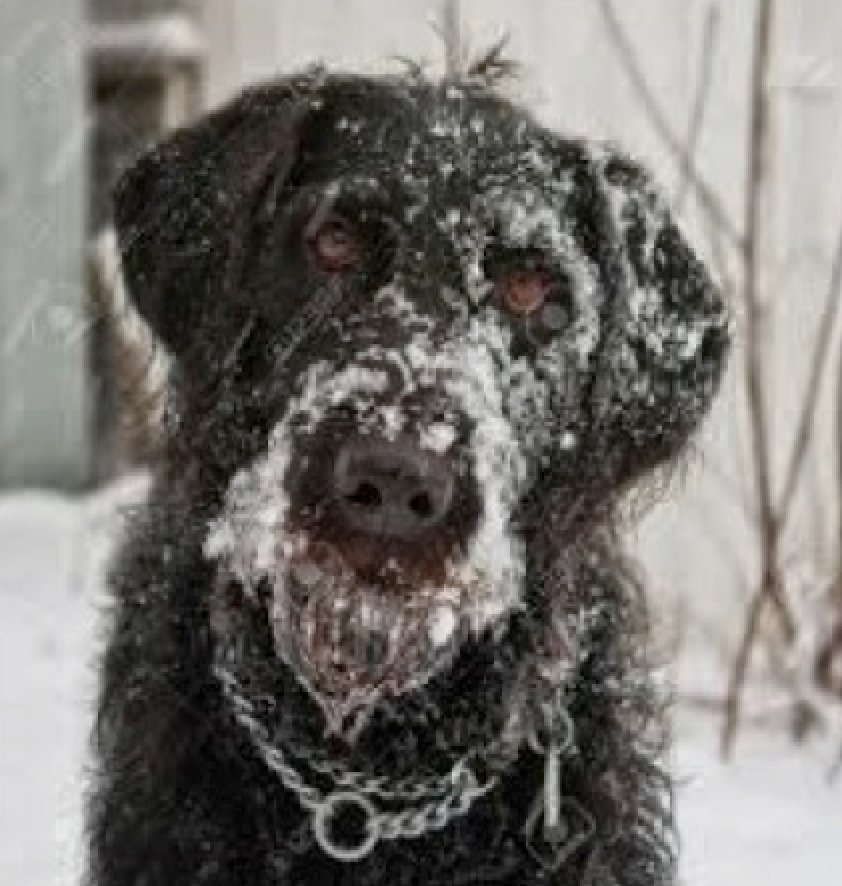 February 2015:
Is it my imagination or has this been a long cold winter? Listen, I enjoy trampling through the snow as much as any dog but I'm ready for some Springtime. My nipples are freezing – and I got 8 of them!
I think that my mommy and daddy have a touch of the Cabin Fever due to these long dreary winter days. Just last week I was hunkered down in our living room enthusiastically licking myself in front of my daddy when I overheard him say: "Gee, I wish I could do that" to which my mommy responded: "You can, just pet her first". Yuck! – These people need to get out more often. Anyway, I need to get back to my busy day: eat; poop; sleep. Repeat. After all, it's a dog's life!
December 2014: 
Kona here, the Diva Labradoodle. It has been a while since you last heard from me and let me just say The Bitch is Back! I have been enjoying a grand time testing my limits and everyone's patience. In the studio, I recently discovered that the very best chew toys are sticks of chalk and paint brushes.  At home, In an effort to make my mommy tidier, I have been chewing and devouring any article of clothing left on the floor – how else is she going to learn? I have also been trying to dissuade my daddy from having a good night's sleep by jumping onto the family bed, panting heavily and licking myself.  My daddy gets mad at me – but this is the identical behavior I have seen him exhibit many times.  The hypocrite! Mommy's contribution to the Horses of Honor public art exhibit came out magnificently and fetched a high price at auction, all for the benefit of the Chicago Police Memorial Fund. I was very proud of her, but enough with the Cows and the Horses – it is time to celebrate the Canine!
Kona out.
September 2014: 
Hey, it's me Kona – everybody's favorite Labradoodle. It's been about 3 months since we last spoke and l am way bigger now than when we first met. I have learned to sit, roll-over, play dead, read ancient Greek and perform integral calculus. But, please do not believe those rumors about me being housebroken. Last week, I went on the paper three times – twice my Daddy was reading it. In fact, I have this trick of leaving "surprises" in remote areas. It took my Mommy almost 4 days to find the last one! She must be so proud – and perhaps she can turn it into some sort of public art installation.
Just a thought.